2014 FINA World Championships - All Relays
Posted by Kevin Doak on Thursday at: 9:55pm (August 7th, 2014)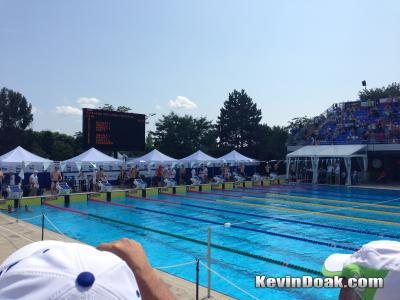 What a long day...
Today I swam 4 relays over the course of 8 hours. I enjoyed about 70% of the day today. Hanging out with my "team" from Michigan Masters, seeing old swimming friends, being in the sun, and the racing itself was all enjoyable and brought me plenty of smiles. Yet, the sitting around for hours on end is the 30% that frankly kinda stunk. The meet was behind schedule 60 minutes, and a little thunder and a momentary downpour of rain delayed a very long day another 30 minutes. The short version is:
50 Back LCM: 28.97 (flat start)
50 Free LCM: 25.18 (flat start)
50 Free LCM: 25.18 (relay exchange)
50 FLY LCM: 27.10 (relay exchange)
I'm generally happy with my times today. I didn't take today especially seriously and that's ok. Time for bed.