2014 FINA World Championships - 100 Fly LCM
Posted by Kevin Doak on Wednesday at: 10:46am (August 6th, 2014)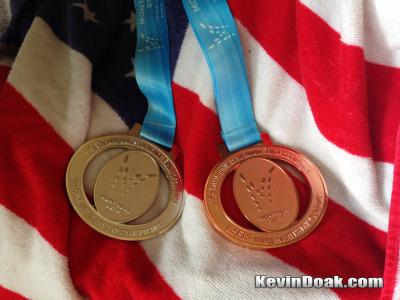 Back-to-back butterfly days! Fly is becoming my favorite stroke. I find that I'm more consistent in my butterfly races and I worry a lot less about my start. Naturally since this meet is a "FINA" meet, we are cursed with the horrible "Omega" touchpads. In short, these are the worst designed touchpads the world has ever seen. How the landed the FINA contract must have either involved bribes or widespread ignorance toward the laws of physics. Moving on...
100m Butterfly RACE RECAP
My day today was relaxed with a 4:28pm estimated heat start time. I got to get a bunch of work done and began my 30 minute subway ride around 3pm. I did a short but sufficient warmup and began my contortionist ritual to get into my race suit. I videotaped a friend Jim who swam 20 heats before me and then relaxed before my heat was called. While waiting for my race, I ran into a few fellow masters swimmers. A few short light-hearted conversations took any stress away from the pre-race feeling. We were marched out to the deck and I found my place behind lane 8. The two minutes I waited to begin my race might have been the most annoying pre-race situation ever. I was swarmed by little gnats or fruit flies landing all over my face and body, they were everywhere. I was swatting these things away every 5 seconds, it just felt a bit disgusting. I've never been so eager to jump in the water.
We were called up on the blocks and the gun went off. Again, I entered with what I thought was a fair time, but turned out to be a slower seed time than I was capable of. I entered with a 1:01.70, I was out in a 26.96 and home in a 32.46. I touched the wall in 59.42, although a far cry from my 54.83 in 2012, it was a respectable time. Before the race I told myself I would be satisfied with any 59.xx, therefore I'm contractually required to be satisfied with my performance. I finished first in my heat but that's only because I miscalculated my abilities when signing up. I waited 5 hours for results to post and found out I finished 3rd in my age group.
Tomorrow I have 4 relays spanning my entire day. It will be a long one considering the venue can't keep the wifi running for more than a few seconds at a time. I fear I'll have to communicate with another human face-to-face without the help of technology. I'll let you know how it goes.