2014 FINA World Championships - 50 Fly LCM
Posted by Kevin Doak on Tuesday at: 10:59pm (August 5th, 2014)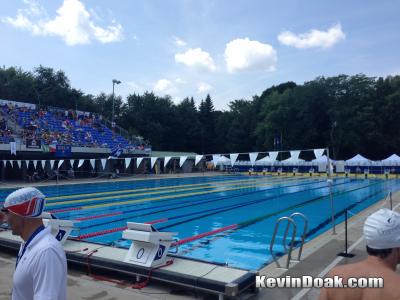 Although I was busy all day with work, today was a relaxing swimming day. I was scheduled to swim at 7:18pm so I had the whole day to occupy my mind with other interests. I headed over to the pool around 5:30pm. After some scmoozing with fellow swimmers, I headed to the warmup pool to do a leasurely 500m warmup. I practiced a few burst sprints to ensure I had a little speed on tap. Due to the number of swimmers warming up, I wasn't able to do any finishes, something I would later learn was a critical piece of my race.
50m FLY RACE RECAP
I headed over to the secondary competition pool at 6:30pm, around 45 minutes before my race. The secondary pool is a temporary facility in a field separated by a long bridge to an island. It's a 15 minutes walk or a 5 minute bus ride away from the main pool. All I can say is that the pool itself is just fine. Everything surrounding the pool leaves plenty to be desired. Some rain earlier in the day made the grounds a muddy mess. The "ready room" (a large, low tent), combined with all the mud, has never quite felt so much like a cattle processing facility. I waited among many bouncing swimmers (just relax guys, no need to do so much jumping). When heat 84 was called in three different languages, I found my #7 chair and took a seat. I was surrounded by jackets representing countless other countries. I enjoy the global feeling you get at this meet. My heat was called and we arose to march up a flight of stairs onto the pool deck. We were instructed to put our belongings at the finish end of the pool and walk to the far side to start the race. As I walked past the 25m mark a staff member asked my lane to check if I was present. I arrived behind lane 7 and did some final stretching. As my heat was called up, lane 8 was missing, we were held on the blocks for a good 20 seconds as we waited for Mr. Late to arrive. The race itself was uneventful. I chose a slow seed time while underestimating my out-of-shape abilities so I was out in front of the pack almost immediately. I took two breaths, just as I planned. I nicked the right hand lane line with my fingertips once, a clear indication that I still circle swim my races. I buried my head and finished the last 10 meters as strong as I could. The glide into the wall was inneficient and poorly timed. I should have taken that last stroke. My head was up before I hit the wall, pathetic. As I turned around to see my time, the lane timer lady pleasantly said: "it was a twenty six". I figured she was rounding. I looked at the clock and sure enough it said "26.00". I had mentioned to my teammates that I wanted to break 27 today. I think it was a 25 second race but I'll take a 26 flat considering my training level lately. My best swim remains my 2012 nationals time of 24.59.
The technology isn't the greatest at this meet. The wifi crashes, the website crashes, the results are severely delayed. I still don't know how I placed today. The 100 Butterfly is tomorrow, it will hurt but I'm looking forward to it.

EDIT:
It took 5 hours to post results apparently. I took 2nd in my age group by 0.06 seconds.... that darn finish