100 Race Pace Today
Posted by Kevin Doak on Sunday at: 1:45pm (February 12th, 2012)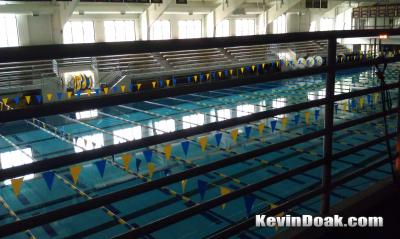 All the post grads wish we could swim more LCM but yet again, the college team was the priority, and understandably so. We wouldn't even have a pool to swim in if it wasn't for the University of Michigan. Therefore our set today was SCY.
3 x
50y Dive @ 1:00
2 x 25y push @ :30
25y easy @ :45
25y Dive
500y easy
A growing concern of mine is that it takes me at least 1 round to warm up. My first round of every race pace set is really poorly excecuted and slow. I honestly can't remember if I was always like that. I know in college I got faster as the set went on but I can't remember if my first round or first few swims were slow. I find the same issue applies to my meets. It always seems like I need one swim to warm me up for subsequent swims. This is especially concerning since I need to be 100% at the U.S. Olympic Trials Prelims to even have a chance at a semi-finals swim.
My first round was:
25.44
12.8
13.6
12.6
My last round was:
24.56
11.5
12.3
11.9
The middle round split the difference on all the times. I could have done another round after, it was a short set and we were out of the pool in less than 2 hours.
WORKOUT:
3 x
50y Dive @ 1:00
2 x 25y push @ :30
25y easy @ :45
25y Dive
Tween
500y easy